Yeadon open meeting
Sunday 2nd October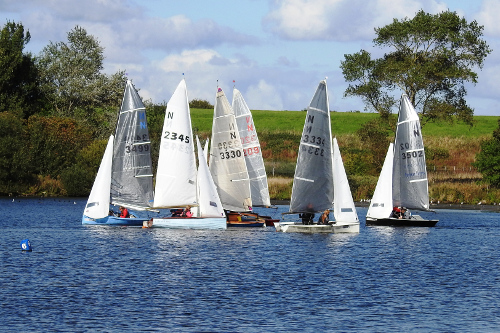 For the National 12 Open Meeting at Yeadon the weather was sunny and warm with light winds which were a little bit more consistent than the wind we had at the Ripon SC N12 Open the day before. For those of you who know Yeadon will realise that still meant the wind could, and would, be all over the place at times.
The first race set the tone for the rest of the day with Philip David & Emma Hampshire being harassed by the rest of the fleet but eventually coming out on top by the end of the race. John & Alison Cheetham came through in second but behind them all sorts of action was occurring on the last lap. Patrick Hamilton & Gail Kaye managed to park up at Mark No 4 allowing Tim Hampshire & Beth Miller and Brian Herring & Ros Stevenson to close and then get through, closely followed by Neil & Rachel McInnes. Patrick & Gail must have caught a big fish as they struggled to get back up to speed, meanwhile Tim & Beth and Brian & Ros stayed overlapped for the remaining legs of the course with Brian & Ros getting the inside line at the last mark to take third place.
After a pleasant lunch it was great to see Howard and Sarah Chadwick who popped in to see how we were all doing and to enjoy the October sunshine.
After lunch the wind seemed to ease off, this made the first couple of laps of the second race a bit of a hunt for the wind before it became more consistent once more. Philip & Emma again made the best of it with John & Alison second with Tim & Beth coming third.
For Race 3 Tim & Beth got the best of the start and lead the fleet for the first couple of laps with the rest snapping at their heels. The lead changed a number of times in the middle of the race before eventually Philip & Emma took the win to give them the perfect scoreline, from John & Alison in second and Patrick & Gail were back up to speed and came third.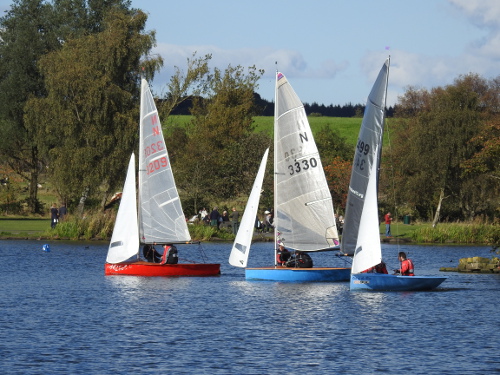 With 3 wins out of 3 Philip and Emma took the Tarn Trophy for 2016 but all the competitors seemed to have a great day.
A special mention must be made to congratulate young Christopher Hampshire who helmed Gavin Goodhall's Twelve at both the Ripon and Yeadon Opens over the weekend in quite tricky, light wind conditions – Well Done Christopher !
At the Prizegiving Philip thanked Yeadon for hosting a good event and the OODs Tony and Paul and their Team who kept everything running smoothly and made best use of the Tarn in the conditions, and to Gren, Cathy and Margaret who keeping everybody fed and watered. Thanks are also due to Howard Chadwick and Ginger Threads for donating the prizes for the event.
Overall results
| | | | | | | |
| --- | --- | --- | --- | --- | --- | --- |
| Place | Sail No. | Helm | Crew | Club | Design | Points |
| 1st | 3499 | Philip David | Emma Hampshire | Yorkshire Ouse / Ripon SC | Feeling Foolish | 2 |
| 2nd | 3209 | John Cheetham | Alison Cheetham | Yeadon SC | Crusader | 4 |
| 3rd | 3330 | Tim Hampshire | Beth Miller | Ripon SC | Crusader 88 | 7 |
| 4th | 2345 | Brian Herring | Ros Stevenson | Redesmere SC | Starfish (1st Vintage) | 7 |
| 5th | 3502 | Patrick Hamilton | Gail Kaye | Burwain / Yeadon SC | Big Issue 2 | 8 |
| 6th | 3216 | Neil McInnes | Rachel McInnes | Yeadon SC | Baggy Trousers | 11 |
| 7th | 3334 | Andrew Cowling | Catherine Ward | Yeadon SC | Design 8 | 13 |
| 8th | 29664 | Christopher Hampshire | Gavin Goodhall | Ripon SC | Cheshire Cat | 15 |