Twickenham open meeting
2nd October 2016

3 visitors joined 5 local boats on the Thames at Twickenham to compete for the Thames Challenge Cup, first presented 80 years ago in 1936.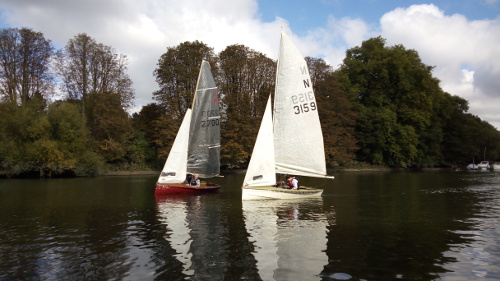 The day started with the forecast light NNW breeze coming through the heavily wooded Middlesex bank. This forced the race team to opt for a reaching start. At the starting gun the boats on the Surrey bank had a nice puff to push them towards the downstream mark, led by Dave and Rose Croft in 2935. At the bottom mark the following breeze had ensured that the fleet was still all close together, ensuring a congested mark rounding. John and Bryony Thornton managed to find a clear route around the buoy and set of in pursuit of the leaders. The inconsistent breeze offered plenty of overtaking opportunities and on the second lap the Thornton's managed to slip past the Crofts and extend to the finish.
The second race started in a similar wind direction, although the breeze was fluctuating more and more wildly. Alastair Edwards crewed by Chantelle in 2903 read the wind conditions better than the rest of fleet and led around the bottom mark. Pip Deverson in 2700 and the Thornton's were at the front of the chasing pack. A rare patch of consistent breeze allowed the Thornton's to overtake Alastair with Pip close behind. As the race went on the Crofts climbed through the fleet, but Alastair held on to second behind the Thornton's.
After a fine lunch in the club house the whole fleet made it back onto the water including N23 Farandole looking resplendent after an 18-month restoration. The breeze was even lighter and patchier providing for a great game of snakes and ladders. The Thornton's found an early ladder in the shape of a puff from astern while everyone else was beating. They held this lead from the Crofts who took second in the race and overall.
Overall results
| | | | | |
| --- | --- | --- | --- | --- |
| Position | Sail Number | Helm | Crew | Club |
| 1 | N3443 | John Thornton | Bryony Thornton | Burghfield SC |
| 2 | N2935 | Dave Croft | Rosemary Croft | |
| 3 | N2903 | Alastair Edwards | Chantelle | Twickenham SC |