The Trent Valley Vintage N12 Open Meeting
Sunday 4th September 2016

The 18/20 knots gusting 30+ forecast fortunately didn't materialise and we had the perfect breeze for a sunny afternoon's sailing at Trent Lock with very close racing throughout the fleet, and with the wind from the North West I could set a simple line 1 start at the Clubhouse with a beat upstream through the Doldrums to the top mark just above the Billystones.

We had an interesting selection of vintage clinker boats from Brian Kitching's Chimp, via three of my original classic N12s being Shotgun (!) Mr Jones and China Doll to two later CDs, competitors traveling from as far away as Bristol, Ely, Lincoln and Malvern.

Race 1 (14:00) saw both Dave Peacock and John Sears over the line and with everyone else close to the line and heading in the right direction both had to work hard to catch up; there was some very close racing to the first mark with the "Boy Wonders"** leading for much of the time. As the boats came downstream to the bottom mark Dave had established a useful lead with Ben Richardson and Geraldlastminute.com battling for second and there was a close fight between JLS, Martin Clarke and Brian Kitching. The end of the second lap saw that DP had established a significant lead over JLS who had secured second place. There was some serious battling down to the bottom mark and back to the finish line between Ben and Gerald with the former just winning out.

Race 2 (15:00) was postponed because of a launching incident which saw a competitor doing a buoyancy test combined with a sail washing. There was a wicked rumour circulating that the helm was too busy watching the Spitfire flyover but the truth was (and I saw it!) his main sheet caught on a mooring eye as he sailed off. I have promised not to mention the unfortunate sailor to save his embarrassment (but just look who didn't finish the race!)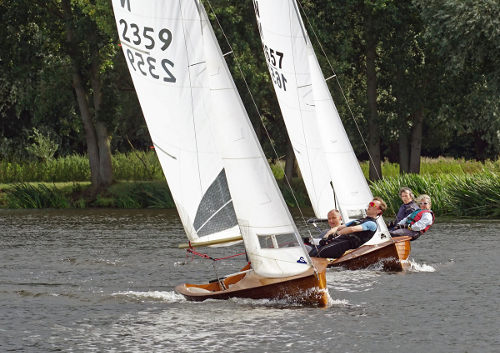 As the gun went Ben, JLS and Dave were all on the line on the far bank but Dave managed to squeeze ahead of the other two and then JLS freed off to get ahead of both. All six boats did close battle heading upstream. By the end of Lap 1 DP was again well in the lead (I think he likes Trent Valley!) and behind him JLS, Ben and Gerald were locked in close combat with Brian in close attendance. The finish saw DP well ahead of Gerald who had just squeezed JLS out at the last mark. And fourth place was being fought out between Ben and Brian with Ben winning out.

Race 3 at (16:30) after a splendid tea provide by our new stewards saw only three crews lining up for the start; James Dalby took over the helm of "Shotgun". JLS got a cracking start but was given a tough time around the course by Martin who finished only a short distance behind him at the finish.

It was good to see a goodly band of spectators including Kevan & Janet, Arthur and Margaret Richardson and an unexpected visitation of John Mason.


And the "scores on the doors" were:
Boat

Heml
Crew

1

2

3

Pts

Place

1657

Just Lucky

Brian (I hate river sailing) Kitching

Chew Valley

Christine Preston

Trent Valley

6

5

dnc

11

6th

2359

Shotgun

Ben Richardson

Trent Valley

James Dalby

Trent Valley

3

4

2

5

3rd

2399

Mr Jones

Gerald Copsey

Hunts

Frances (first time I've sailed this year!) Copsey

Hunts

4

2

dnc

6

4th

2403

China Doll

John Sears

Notts County

Catherine Sears

Notts County

2

3

1

3

2nd

2620

Fair Lady

Dave Peacock

Arden

Ann Britton

Trent Valley

1

1

dnc

2

1st

2708

China Girl

Martin Clarke

Hykeham

Matt Clarke

Hykeham

5

rtd

2

7

5th
See more photos at https://flic.kr/s/aHskD8enTo
My personal thanks to all the competitors, and to Guy (of the Merlins) Browne and Ken Goddard for their help in running the event. And why wasn't I sailing? Another injury – left knee this time…
** "Boy Wonders" being the two very sporting TVSC Laser Stars sailing" Shotgun", the lads so christened by Mrs Richardson Senior (wife of Arthur) of her second son Ben crewed by James Dalby.
Paul