Trent Valley N12 Open Meeting
(Midland Area and HD Sails Four Plank Series)
Sunday 8th May 2016

Six visiting crews came to TVSC to enjoy Trent Lock at its best – beautiful sunshine, and a decent breeze (from the right direction!).

For race one, race officer Roger Britton set the usual default course being to the top mark and back to the bottom, twice. Graham Camm get a perfect start at the far end of the line; I decided to try the other end and was surprised to find us in second place as we approached the Scout HQ; from then on it was a matter of rear guard action! There was some very keen racing in all parts of the fleet, with Ian Gore finally getting past Graham, and John Sears securing third.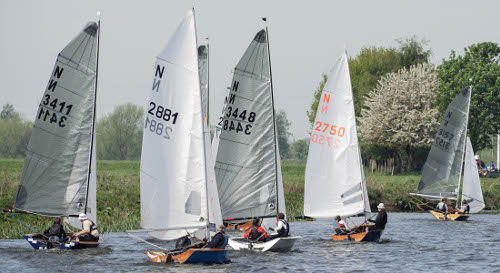 Race two saw the same course, but with Graham (in my Micro Clipper N3157) getting the better of Ian. Again, keen racing right through the fleet. So after two races all to play for, although John had guaranteed third place.

After a splendid lunch courtesy of Lorna Orton and helpers, Roger set a four lap short course (top mark just south of Billystones) with a downstream start plus an extra buoy set in the canal mouth ("to make things more interesting"). And things did get more interesting as the breeze built and a frisky gust hit the fleet as it got to the bottom mark. Three of us gibed round, two wore round and two (wisely) let all the sheets go and let the squall pass. Ian's heavy firepower meant that he drew away from Graham but elsewhere there were some incidents. Peter decided that the breeze was getting too fruity and retired. John was nearly wiped out by a narrow boat that hadn't spotted him washing his sails; another retirement. And after extracting the tiller extension from the strap holding on my new sunglasses as we gibed at the top mark, a loud bang announced that the top of the centreboard case had split! End of our race!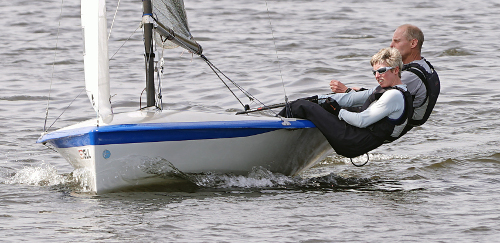 A special mention for the very sporting appearance of Boatswain Bob from Milton Keynes, crewed by last minute volunteer Brian Wilmot from TVSC's Laser fleet. Like the sailors from Attenborough at the previous weekend's Tripartite meeting with Nottingham, he found the high speed tacking up the river very hard work.

The "scores on the doors":

1st Ian & Alex Gore/ Up River N352 – Ian won the meeting as long ago as 1991; this is his fifth win at TVSC.
2nd Graham Camm & Zoe Ballantyne/ Burghfield N3157 – First AC boat
3rd John Sears and Catherine/ Notts County N 2957 – First Four Plank
4th Gerald Copsey and Tanya/ Hunts N3411
5th Peter Miatt and Olivia/ Notts County N3448
6th Paul Turner & Christine Preston/ Trent Valley – N2750 Cheshire Cat
7th Bob Austin & Brian Wilmot/ Milton Keynes & TVSC – N2881

And finally a special thank you to all who competed/supported, including Roger Britton who did a flawless job as Race Officer, aided and abetted by Rosie Allen and her brother Ben, Guy Browne and Brian Wilmot not forgetting Lorna Orton and helpers for a splendid lunch.

Special thanks to Kevan for his photos: https://flic.kr/s/aHskzPS6J9