Ripon open meeting
National 12 Open at Ripon Sailing Club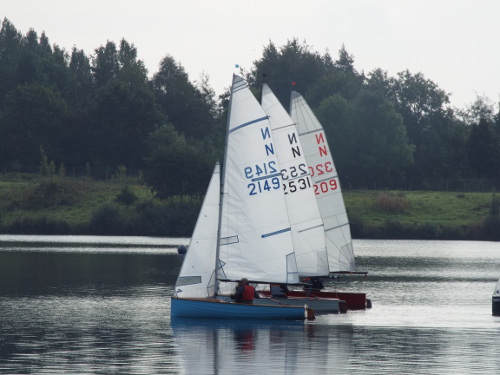 1st October 2016

The Vale of York fog was just lifting as boats were being rigged for this years open at Ripon. The sailors were more eager than the wind and the first race was postponed until there was enough of a breeze to race against. 9 boats made the start line, the only foiling crew to turn up having decided that there was not enough wind to keep them entertained. Good to see was the 5 juniors taking part in a all ages of boats, with Esme from Ripon crewing her first 12 race in Bernard Clark's vintage and Christopher at the helm of Gavin Goodall's 4 plank.

First race honours were taken by Patrick Hamilton followed very closely by Philip David and Bernard Clark. The second race saw the wind pick up slightly but Bernard having made a poor start failed to catch back up and it was the turn of John Cheetham in his beautifully finished Crusader to challenge the double bottom 12s, coming in second behind Philip and ahead of Patrick. The wind again picked up for the last race and we all thought we were in for a challenge, however the heavens opened and the rain washed the wind away to the point that the race ended in a near dead calm but thankfully with some sunshine. Positions at the front matched the first race, maintaining boat speed and careful tacks proving to be the key to success.

After the prize giving by Alison Hampshire who thanked the race officers and safety crew for a great days racing, those that could, stayed for a pleasant meal and chat at the club house. Once again a very amiable open event with a good mix of boats and abilities and close racing throughout the fleet.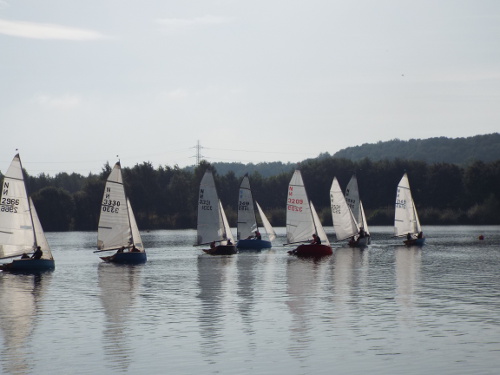 Overall results

1st N3502 Patrick Hamilton & Gail Kaye
2nd N3499 Philip David & Emma Hampshire
3rd N3209 John Cheetham & Alison Cheetham (1st Admirals)
4th N2149 Bernard Clark & Esme Barraclough (1st Vintage)
5th N3330 Tim Hampshire & Beth Miller
6th N3331 Simon Moss & Tom Moss
7th N2531 Vince Phillips & Alex Phillips
8th N3216 Neil McInnes & Sarah Cooke
9th N2966 Christopher Hampshire & Gavin Goodall