Yorkshire Dales open meeting
Yorkshire Dales Sailing Club – National 12 Open Meeting incorporating Bart's Bash
By Neil McInnes
The excuses were many and varied however the Twelves that didn't make it to Yorkshire Dales Sailing Club for the Open Meeting on Sunday missed a great days sailing ! True the wind didn't look inviting when we arrived but once rigged and after a short delay the OOD decided the breeze had filled in enough to start racing on a short course. The first race set the pattern for the rest of the day, a tight start, a close first beat, the fleet rounding the windward mark close together and then Ed and Sarah getting their T foil rudder working downwind to their benefit to get away from Mark and Anna and similarly they sailed away from Neil and Matthew, with the boats finishing in that order.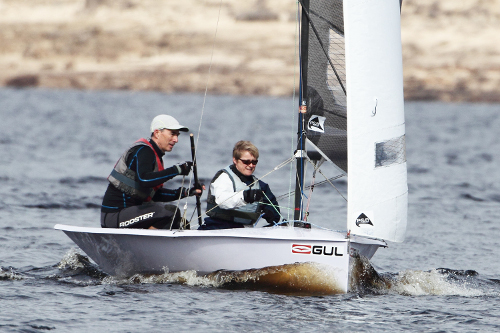 With the increasing wind the OOD set a long course for the next race. The pattern, however, was the same as the first race with a close first beat with then Ed and Sarah gradually getting away over the next couple of laps and taking the win again.

Lunch back in the Club House was rather nice so once rested and replenished we set off for the third race. This race was combined with Bart's Bash so the fleet was considerably bigger as we were joined by about 40 others on the start line, including a Dart 18, 29er, Vortexs, Fireballs, Lasers, Vagos, Toppers, and others. This added an additional dimension to our race with more 'traffic' to negotiate but the pattern was still the same, it just seemed the gap at the end of the race between the Twelves didn't seem as wide, despite it being a bigger course and the OOD keeping it going longer ?

Congratulations to Ed and Sarah to winning all 3 races and the meeting overall

Thanks to Yorkshire Dales SC for being great hosts as always and Paul Hargreaves Photography for taking some great photos (please see his website for more: http://paulhargreavesphotography.zenfolio.com/ )
Next event in the Northern Series is the Ripon / Yeadon Open Meetings Weekend on the 3rd & 4th October - See you there !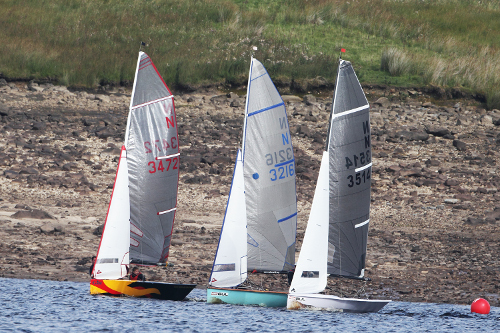 Overall results:
3514 Ed and Sarah Storey (Ripon SC) 2
3472 Mark and Anna Simpson (Scaling Dam SC) 4
3216 Neil McInnes and Matthew Smith (Yeadon SC) 6

Photos with kind permission of Paul Hargreaves Photography