(informal) Northern area dinner
Twenty Eight keen Northern Twelve sailors and supporters met at the bay Horse Inn in Goldsborough near Knaresborough on Saturday 24th January for an informal dinner. Members had travelled from Cheshire, Sunderland and all corners of Yorkshire to support the event hosted by Area Representative Brian Herring. After assembling in the staring area (Bar) to discuss tactics the fleet moved to the dining room where the discussions, general banter and good food were enjoyed by all.

Over coffee Brian said a few words and presented the series trophy to Philip David and his crew Caroline who unfortunately was not able to attend. He then announced that the winner of the jib, drawn from the list of helms who qualified in the 2014 series was Neil McInnes. Rumours that he has used this as a Xmas present for Rachel were strenuously denied by Neil! Patrick Hamilton raised the issue of a clash of dates for Burwain and Hykeham and it was unanimously agreed that we should move the Burwain open meeting forward by one day to the Saturday to avoid the clash with Hykeham.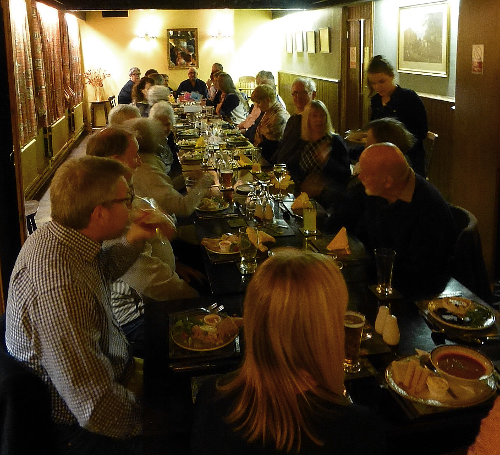 Banter continued on for some time after the brief formalities were over before eventually disbanding amidst calls for us to repeat the event again in the future.
Watch this space!

Howard Chadwick
N2266, 2683, 3347 and 3356