National 12's at Cramond Boat Club.

Cramond Boat Club held its annual dinghy Regatta over the weekend of the 29th and 30th August. This event was also an open for the National 12 class who were competing for the 43 year old Lairwell Trophy.

Cramond Boat Club has its Clubhouse and moorings at the mouth of the River Almond, 4 miles north west from the centre of Edinburgh. The River Almond is tidal with access to the Firth of Forth where the Club holds it's dinghy and yacht races.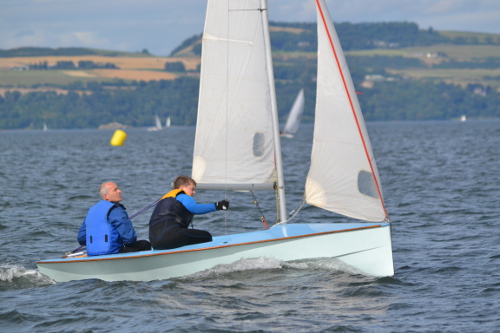 The fleet was greeted by a squally south westerly wind on the Saturday which promised some exciting sailing. The forecast was for 17 to 25mph winds however the Committee boat was recording winds peaking at nearly 30mph out on the race area of Drum Sands. This resulted in hard beats and spectacular flat out reaches; and of course multiple capsizes which kept the rescue fleet busy! Two races were sailed, back to back which was more than enough for very tired bodies.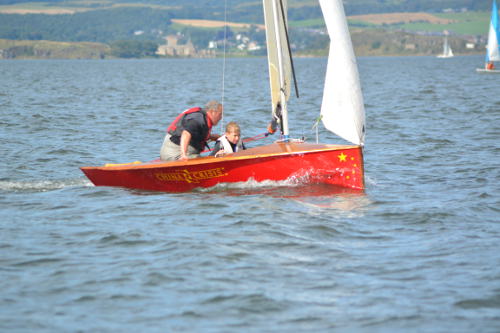 Sunday dawned with bright sunshine and initially lighter winds as forecast, in the 15 to 17mph range; however the wind varied in strength throughout the day, occasionally with much stronger squalls.Three races were held back to back and the competitors enjoyed some wonderful sailing in great conditions again providing for spectacular planing reaches.

With no visitors attending it was left to Cramond BC's home National 12 fleet to battle it out for Class honours. Andrew Harris and Andrew Finn were third in N2679 "Dolly Blotter" a Paper Dart design and deserved a special prize for perseverance, recording the most capsizes of the weekend! Alex Tulloch and Matthew Struthers were second in N3223 "China Crisis" a Crusader design and were looking well placed but also suffered with gear problems and capsizes. The overall went to Ed Willett (crewed on Saturday by Miles Davis and on Sunday by Alex Campbell) in N3274 a Crusader 88 design who sailed a conservative series to survive the weekend without a capsize and finished every race started. They also took third in the overall Regatta results.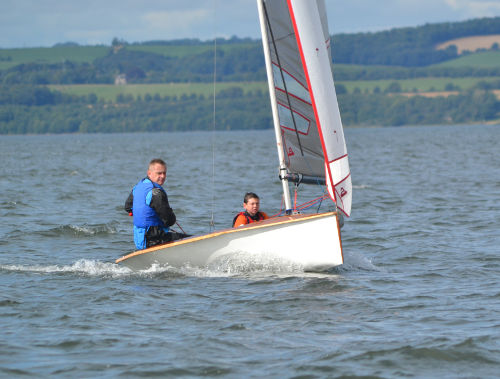 Cramond Boat Club's cadets were invited to provide crewing services for the weekend and huge thanks go out to the enthusiastic youngsters who seemed to enjoy themselves no matter how wet they got and unanimously concluded that crewing a National 12 is much more fun than helming a Topper!

The competitors thank Cramond BC and their members for organizing a superb event. Despite the challenging conditions the OOD Drew Pratt and his team expertly managed the back to back races. Special thanks also to all those on the water manning the rescue boats and, of course particular thanks to Ian Hellewell and Phil Chester for providing and manning the Committee Boat and finally thanks to the Catering staff who laid on soup and rolls. We hope more will join us next year.


2015 Lairwell Trophy Event
Overall results
| | | | | | |
| --- | --- | --- | --- | --- | --- |
| 1st | N3274 | Mr Incredible | Ed Willett | Miles Davis/Alex Campbell | Cramond BC |
| 2nd | N3223 | China Crisis | Alex Tulloch | Matthew Struthers | Cramond BC |
| 3rd | N2679 | Dolly Blotter | Andrew Harris | Andrew Finn | Cramond BC |