Burwain Open Meeting
Burwain Sailing Club were pleased to welcome visitors from Royal Harwich, Ripon, Yeadon and Yorkshire Ouse sailing clubs to the Dinghy Shack series event on 13th September.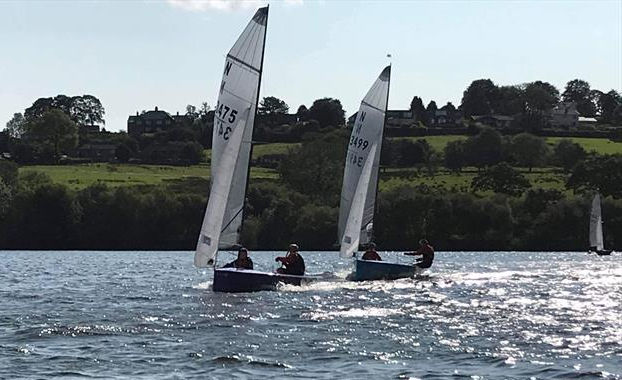 The meeting was originally planned to take place at Yorkshire Dales but cancelled due to Covid-19 problems. Burwain stepped in to enable what appears will be the only possible gathering of National 12s in the North this year. Burwain's unusual set up of a large dinghy park on the opposite side of the lake to the clubhouse facilitates social distancing and the RC Laser section were able to sail as usual whilst the National 12 sailors met in the dinghy park.
Four races were sailed in gusty winds and increasing sunshine. First place was hotly contested between Philip David crewed by Emma Hampshire in his non foiling Feeling Foolish and George and Lucy Finch in their foiling Dead Cat Bounce built this year by Simon Hipkin. The dead cat bounce showed higher top speed on occasions downwind but Philip made ground on the beats picking his way through the shifty gusts. The final scores were Philip and Emma 1,2,1,2 and George and Lucy 3,1,2,1. There was some debate about the different scoring methods but the prizes generously provided by Dinghy Shack were presented using the discard as the decider.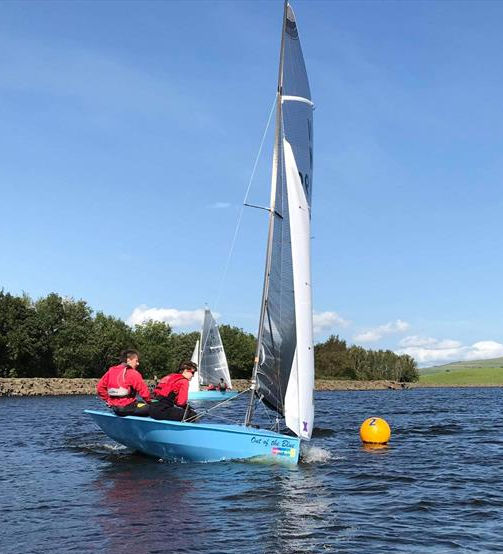 Patrick Hamilton and Emre Yilmaz weren't far behind the leaders in their Feeling Foolish recently fitted with a foiling rudder and refurbished by Winder.
A special mention is deserved by Alison Hampshire who was press ganged into crewing for husband Tim at the last minute due to son Christopher being ill despite having very limited experience in dinghies They were going well by race two and in third place before a swim late in the race.
Overall results
1st Philip David and Emma Hampshire, N3499 (Yorkshire Ouse SC)
2nd George and Lucy Finch, N3551 (Royal Harwich YC)
3rd Patrick Hamilton and Emre Yilmaz, N3475 (Burwain Sailing Club)
4th Tim and Alison Hampshire, N3502 (Ripon SC)
5th Tony and Lucy Dufton, N3283 (Yeadon SC)