Yeadon open meeting
Light winds for the Yeadon National Twelve Open Meeting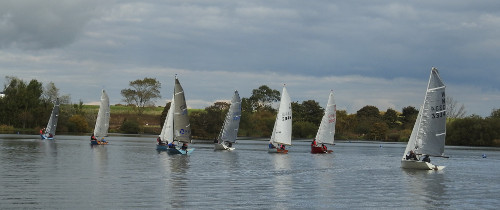 8th October 2017

Following on from the open meeting the previous day at Ripon Sailing Club where wild gusts and much swimming were the order of the day the fleet of nine boats gathered at Yeadon the following day in warm sunshine and very little breeze.

The race team set a rather complex course to try and make the maximum use of the breeze and the small water and as the fleet sailed out the fickle breeze was changing direction and strength turning the first beat into a run at one point but finally settling to make the start a close fetch into mark number 1.

Tim and Christopher Hampshire made a great start in their Crusader to pop out in the lead closely followed by Brian Herring and Ros Stephenson in Brian's vintage St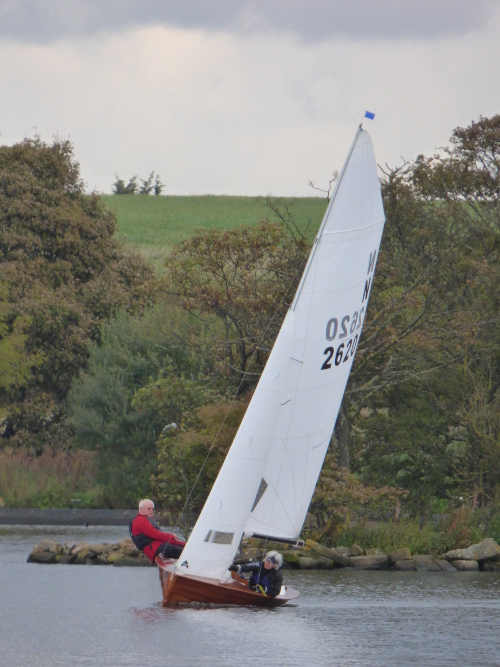 arfish and the remainder of the fleet close behind. After the first full lap David Peacock and Tina Beresford had joined the leading pack in David's immaculately prepared China Doll, Philip David and Emma Hampshire also took up the challenge in a Feeling Foolish. With much place changing throughout the race it Was David Peacock who took line honours and led the fleet in for an excellent Yeadon lunch.

The wind became ever shiftier with flat patches around the course the older boats continued to dominate with David leading from the start and staying clear, it was home sailors John and Alison Cheetham who fought through to second place and Philip David taking third place from Howard Chadwick and Helen Nicholson on the last lap leaving David the clear winner of the event but the rest of the positions still to fight for.

In an attempt to make the most of the remaining breeze the race officer changed the course to try and miss out the wind shadowed areas although this meant only using half the water it proved to be a good decision. David and Tina decided they had had enough excitement and stayed ashore and the remaining fleet headed out for the start although some barely made it in time. The course change worked and places were changing frequently except for Philip David who managed to maintain his early lead to take the win from Tim Hampshire and then John Cheetham.
Overall results
| | | | | | |
| --- | --- | --- | --- | --- | --- |
| 1st | 2620 | David Peacock | Tina Beresford | China Doll design | Arden Sailing Club |
| 2nd | 3499 | Philip David | Emma Hampshire | Feeling Foolish design | Ripon/Yorkshire Ouse |
| 3rd | 3? | Tim Hampshire | Christopher Hampshire | Crusader Design | Ripon Sailing Club |
| 4th | 3209 | John Cheetham | Alison Cheetham | Crusader design | Yeadon Sailing Club |
| 5th | 3356 | Howard Chadwick | Helen Nicholson | Design 8 | Yeadon Sailing Club |
| 6th | 2345 | Brian Herring | Ros Stevenson | Starfish | Redesmere S. C |
| 7th | 3468 | Neil McInnes | Paul Metcalfe | Numinous | Yeadon Sailing Club |
| 8th | 2986 | Chris Wright | Gavin Gulliver-Goodall | Cheshire Cat | Ripon Sailing Club |
| 9th | 3384 | Andrew Cowling | Catherine Ward | Design 8 | Yeadon Sailing Club |
David Peacock and Tina Beresford winners sailing David's immaculately restored China Doll
Race report: Howard Chadwick 10/10/2017

Photo credit Clare Mortimer and Rachel McInnes