Twickenham open meeting
October 26th 2014

Well over 30 people participated and supported the 79th N12 Open meeting last weekend, this event counts towards the N12 Thames Area Series. Conditions were interesting and challenging at times, two visitors attended and all Twickenham's boats got to the start line despite last minute arrangements for crews.
David Croft sailing Close to the Edge 2935 was crewed by daughter Abigail, a local International and Team GBR sailor immediately demonstrated their skill and familiarity with the reach by storming ahead, increasing their lead thereon in. The rest of the fleet enjoyed some cat and mouse manoeuvring throughout the day.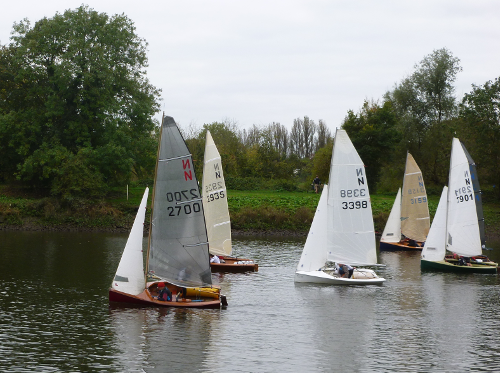 Burghfield's Neil and daughter Freya Lillywhite sailing Indecision 3271, a beautifully finished Morrison Design 8 of which there were three on the water, were not deterred by Twickenham's oddities but couldn't catch Pip Deverson in Artic Tern 2700 who held him off throughout the day.

Races 1 and 2 were sailed back to back in the morning while the wind increased. After lunch Race 3 started at the same time the sluice gates at Richmond opened after which the water quickly filled in and local knowledge came into play. One highlight of the day was when one Twickenham helm missed his toe-strap and performed a wonderful backwards flip into the Thames leaving his crew baffled as to his whereabouts, they quickly recovered.

The 79th year of this event saw David and Abigail Croft in Close to the Edge take the magnificent trophy home for the eighth time, Pip Deverson and Peter Hinson sailing Artic Tern came 2nd and Neil and Freya Lillywhite finished closely behind in 3rd position.

We would welcome more support in 2015 our 80th year to ensure that this event can continue and that the trophy first presented in 1935 continues to be contested.
Pip Deverson, Twickenham Yacht Club, N12 Class Captain
<![if !supportEmptyParas]> <![endif]>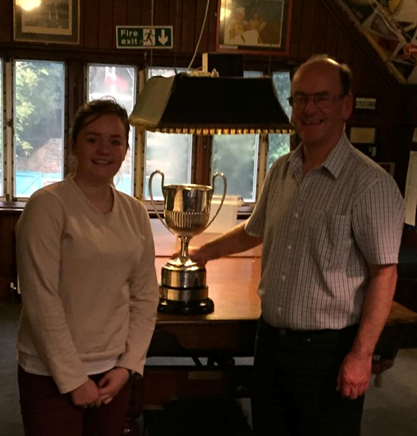 Photo: David & Abigail Croft receiving the 1935 Trophy