Ripon open meeting & GUL series penultimate event
National 12 Gul open meeting at Ripon sailing club
4th October 2014
Twenty boats travelled to Ripon Sailing Cub for the penultimate event in the National 12 Gul series. Luckily for the competitors the heavy rain cleared before racing began and the fleet
took to the water in a light breeze. The first race began in the top half of the lake. Ian and Alex Gore started by the committee boat in a good gust of wind and raced up the first beat to round the windward mark in first place. They were closely followed by Tom Stewart sailing with daughter Isobel. As the boats reached the narrow part of the lake, Ian and Alex kept to the right but ran out of wind, while Tom and Isobel headed left and kept in the breeze. Graham Camm and Zoe Ballantyne followed in Tom's wake and managed to pass both boats to take first place, which they held to the finish.
Race 2 saw much lighter winds and a start in the bottom half of the lake. Tom Stewart, this time sailing with son Robbie, was first to tack off on to port on the right hand side. On the left hand side Phil David and Emma Hampshire were also quick to tack off and got into second place. Graham and Zoe followed in third. After battling Phil and Emma for several legs, they finally overtook them but by then Tom and Robbie were too far ahead to catch.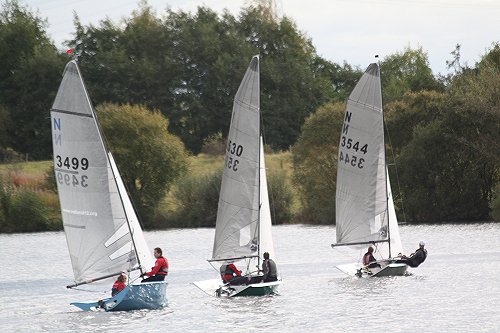 In Race 3, the wind strengthened and shifted, resulting in an initial general recall. Finally the fleet got away cleanly. Jon Ibbotson and Charlotte Stewart and the Gores had a good start on the committee boat end but Graham and Zoe, starting further down the line, got ahead up the first beat, maintaining their lead to the finish. The pack of boats following behind changed places regularly but it was Ian and Alex who held on to second place, followed by Jon and Charlotte in third and Ed and Henry Storey in fourth.
Overall results:
1. Graham Camm and Zoe Ballantyne
2. Tom and Isobel/Robbie Stewart
3. Ian and Alex Gore
4. Jon Ibbotson and Charlotte Stewart

1st Admirals Cup boat
Bernard and Ellie Clark

1st Vintage
David Peacock and Ann Britton
Photo courtesy Jennie Clark