The National 12 is a two person, two sail racing dinghy. With a main & jib area of around 10.4 sq metres (8.4m2 measured) and a light hull, 78Kg including mast and centre-board, there is ample power to drive the fast and responsive hull.
The 12 is a development class so hulls and rigs can be changed or modified within the class rules. The different hulls allow helm-crew combinations between 16 & 23 stone to be competitive. You are free to fit your boats out as you please so you can customise your twelve to your requirements. Explore the 12 to find out more . . .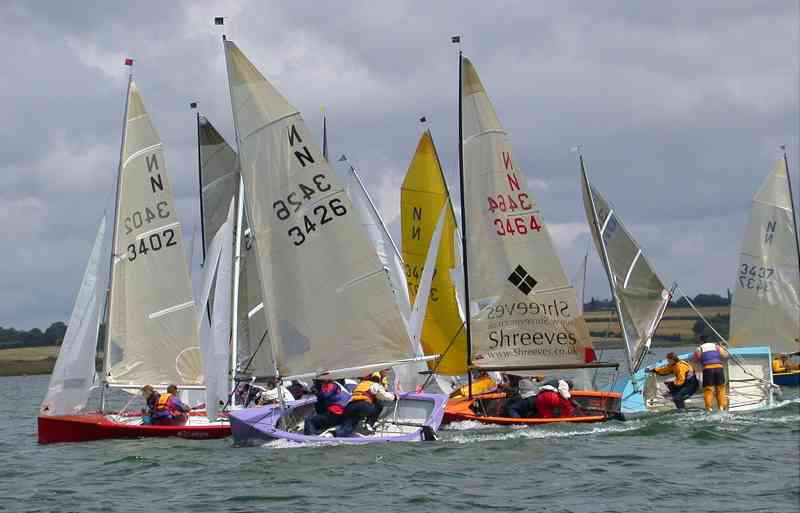 The Twelve has a long, famous and intriguing history, and has developed into an exciting racing boat which performs well in all conditions and is a joy to sail. The picture below show just how much fun the racing is:
If you're interested in the history then you can watch 70 year's of development to find out more.
Having decided that a Twelve looks like fun, how do you confirm that it is the boat for you? The best way is to try one! We will arrange a free test sail at a N12 club near you. And when you've found your 12 then join the association.
If you need any more advice in choosing a Twelve then please e-mail us: ntoa@ndirect.co.uk. Want to know more about the class history or would you like advice on choosing a 12? Then read on . . .
There are a variety of different designs of Twelve, this might appear to be a little confusing at first but the following pages will guide you to a suitable boat whether you are looking for a light wind inland dinghy or a strong wind sea boat. There are three main classifications in the fleet