Welcome to The Latest Chapter! In this issue we're looking ahead to the next GUL Series event at the popular championships venue of Brightlingsea, and the Vintage Championships at Burton. Sticking (mostly) with the Vintage theme we also have an update from Paul Turner on the ever expanding Turner Collection.

In this issue: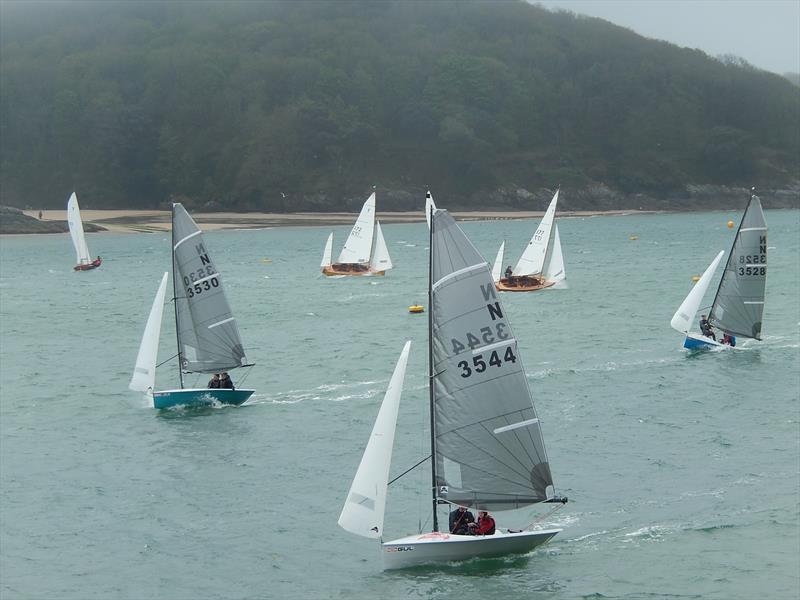 GUL Series racing at Salcombe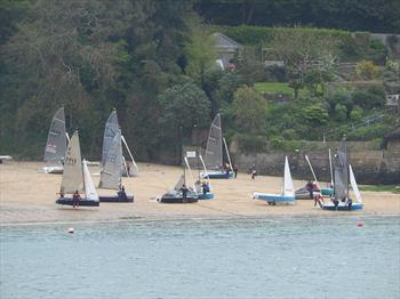 Pasties on the beach
The second GUL Series meeting of the year was notable for family sailing with a healthy turnout of various combinations of mums, dads, siblings and children.
Graham Camm and Zoe Ballantyne showed that they were a class act, taking three straight wins, with Salcombe regular, Tom Stewart crewed by son and daughter Robert and Isobel, securing a string of second places.
Recent Dead Cat Bounce convert, Anthony Gifford took the Monday morning win sailing with son James, the youngest winner of the weekend, followed home by Tom, enough to give the Stewart team second place.

Once again it was a great welcome from Salcombe where pasties on the beach are becoming a tradition and GUL provided generous prizes. If you can't get enough of Salcombe sailing and the beaches, make sure to get down in August for the Yacht Club Regatta (9-14th August) - it's already looking like a popular choice for 12 sailors this summer.
You can find the full results here.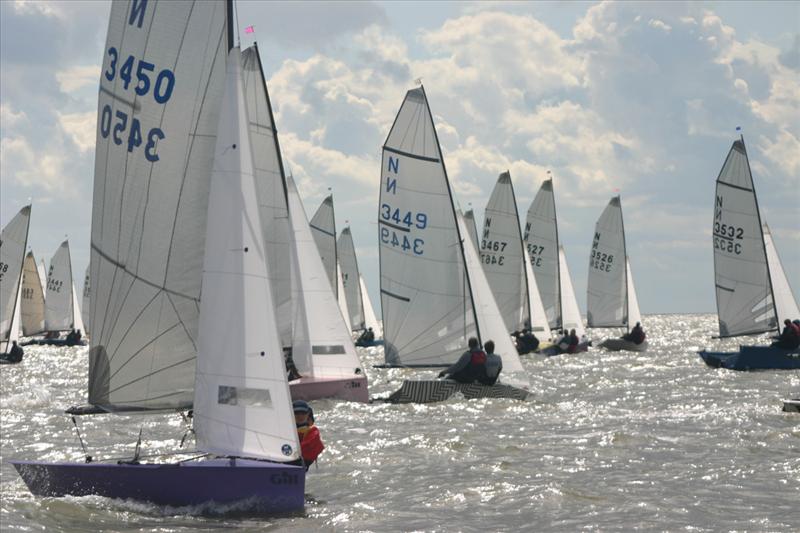 Burton Week at Brightlingsea back in 2011
Join the National 12s for their third GUL series event of 2015 at Brightlingsea Sailing Club on 6th and 7th June. A much-loved venue and previous hosts of Burton Week, Brightlingsea Sailing Club offers superb sea sailing and a friendly welcome. It's an ideal venue for anyone looking to improve their sea sailing skills or who is after a warm up for Burton Week.
Five races will be held over the weekend, with the event being shared with the Fireballs and OKs. The first start on Saturday will be at 1pm allowing competitors plenty of time to reach the venue. There will be two races on Saturday and three on Sunday.
For early arrivals on the Friday there's a home-cooked curry available and there is also a two course meal on offer on the Saturday night. The bar, as always, will be open on both nights and you can also have your tent only a stone's throw away by booking in at the campsite next to the club.
You can read the full notice of race here.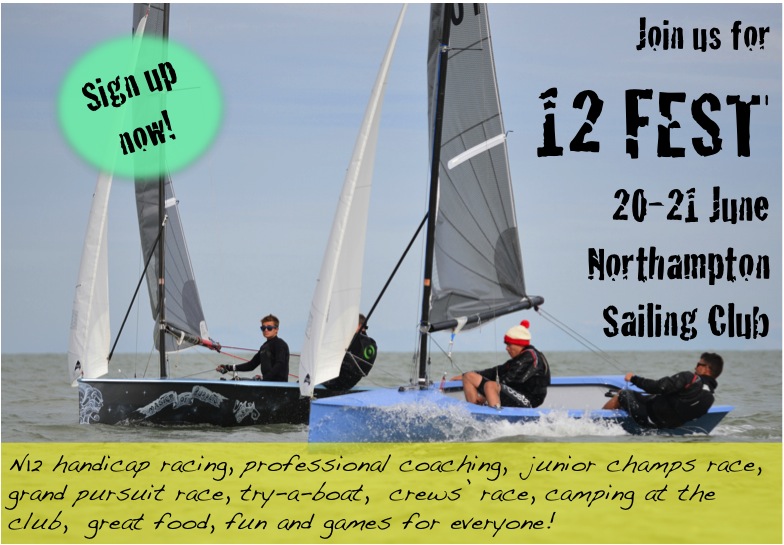 Don't forget to sign-up for
12 FEST
, (20th-21st June at Northampton Sailing Club). Our Olympic coach, Steve Irish, needs to know what skills we want to focus on so to ensure we get the most out of the day, please fill out the form
here
.
You'll also guarantee yourself £5 discount on the event - so sign-up today!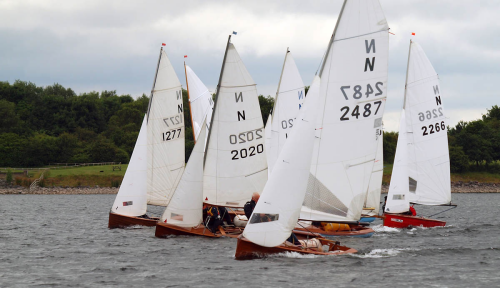 The N12 Vintage Championships for 2015 will be held on 27/28 June. We are again privileged to be hosted for the third year by Burton SC at Foremark Reservoir in Derbyshire; the arrangements will be pretty much the same as previously.

We are delighted that the same team from BSC (Craig Hellon and Bill Hooton) are in charge from their side and we have the experience and wisdom of Janet & Kevan on our side!

The formal NOR and sailing instructions will be posted on the N12 website soon but here's a brief run down on the event:
Three Derwent Handicap races on Saturday (first at 12:00) under the eagle eye of Ken Goddard and three scratch races on the Sunday from 10:00.
We will again be sharing the water with Miracles both days and with club racing on the Sunday.
The entry fees will be £28 for both days and £18 for one day.
IF there is sufficient interest Jenny Clark has kindly volunteered to arrange T shirts – but we need to know soonest!
There will be a meal on the Saturday evening at a cost of the order of £5 to £8 per head TBD. It might be a BBQ or something like chilli and rice depending on weather etc. We have also been promised a fun quiz by the Bilton family.
Camping or camper vans on the grounds Friday and Saturday nights is free but we will need to know in advance who is coming Friday night with contact details as we will have to arrange for someone to be at the club.
Please let me know as soon as possible if you are intending to sail so we can sort prizes etc.

From the Turner Collection Martin Clarke has already "bagged" Starfish N2020 and Tim Gatti has Mr Jones N2399.

And let's hope for two sunny days with a pleasant (and steady!) breeze.

PS Sightseers and N12 gongoozlers welcome both days!

The Turner Collection
The Collection initially focused on the first boat of vintage/clinker designs which were a significant step forward in N12 development. However over the years one or two other boats have appeared which also needed loving care because of their interest/novelty value and/or I liked them! Here's a rundown on where we are currently:

N1650 Smuggler – has been sailed this year by Angus (briefly) at Burghfield and at the Trent Valley Open Meeting. She needs a few bits sorting such as a minor structural issue by the port shroud plate/foredeck area, and she is now ready for a hull strip down/re-varnish this winter. Available for the Vintage Champs.

N2020 Starfish – She is at home on a trailer waiting for Martin Clarke to collect to sail at the Vintage Champs in June. She still has her original Barber Haulers for the jib sheets, and toe rails to put your feet on when doing a lazy hike out (but you have to watch your shins!) She's a lovely boat to sail; so stable it's like being in an armchair.

N2359 Shotgun – A Mike Nokes "one-off" with a super tanker bow and four totally flat planks under water, is awaiting a re-varnish having had the foredeck stripped down last winter. I hope to have her back on the water before, and available for, the Vintage Champs. An interesting boat to sail; very quick off wind but not so fast on a beat.

N2399 Mr Jones – Having spent many hours stripping her down it became obvious that some serious reconstruction work was required so she has been with Tim Gatti for some time; Tim says she will be fully restored by the end of June as he is intending to sail her at the Vintage Champs. A scary boat, like sailing on a knife edge; if you don't keep her bolt upright the bow lifts out of the water in light winds or you fall in if it's breezy!

N2403 China Doll – Is fully restored and was sailed very quickly by John Sears at North West Norfolk Week last year. The only current issue is to check the integrity of the centreboard which has suffered two structural failures. My favourite N12 design and I intend sailing her at the Burton this year.

N2492 Whisper – Was a total wreck having been left in a field near Worcester for many years, but after (again) many hours of stripping down she went to Gerry Ledger for restoration back at Christmas. Job now done, she just waits for me to be fit enough to drive down to Essex to collect her! She is already entered for NWNW this year.

N2750 Cheshire Cat – following major bow reconstruction (water had been collecting in the bow tank for some time) she was fully re-decked and restored by Gerry in time for me to sail her in the HD Four Plank series last year. I had a CC back in the 1970s and didn't get on with it, but the original is actually a pleasure to sail. She will be sporting a nearly new suit of Alverbank sails I had forgotten I had in storage!

N3142 Baggy Trousers – is lurking in my barn awaiting a serious strip down this winter to see if it is possible to restore; Dave Peacock (who built her) has already been over her and has identified significant hull de-lamination and decking problems. The jury is out on the viability of restoration.

N3157 Perfect Kiss – the one remaining (of two) Micro Clippers is my club boat sporting a carbon rig and new HD sails. Lovely boat to sail and we can give the club Lasers and Merlins as serious run for their money in most conditions!

These are not museum pieces; they are to be sailed and enjoyed! The clinker yots (including Dolly Daydream) are available to competent helms to sail at the Vintage Champs this June; sadly I will not be competing.
Paul Turner

Dates for your diary
Brightlingsea SC 6-7th June - GUL Series #3
12 FEST - N12 Coaching & Summer Event at Northampton SC 20th-21st June
Vintage Championships at Burton SC 27-28th June
Royal Harwich YC 4-5th July - GUL Series #4
Herne Bay SC 22nd-25th August - Burton Week 2015 including Burton Cup and National Championships and GUL Series #5
Solway YC 12-13th September - Scottish Championships and GUL Series #6
Ripon SC 3rd October - GUL Series #7
Northampton SC 7-8th November - GUL Series Finale and Inland Championships
A full list of fixtures for 2015 can be found on the
N12 website
.
Welcome to New Members
Finally, we'd like to give a warm welcome to all the recent new members of the NTOA. We hope you enjoy your 12 sailing as much as we do.
Daniel Bell of Medmenham, Marlow, Bucks with N2913
Sarah Crabtree of Stirchley, Birmingham with N3316
Neil Crosby of Denchworth, Wantage, Oxon with N3155 (a welcome return)
Philip Kendrew of Faceby, North Yorkshire with N3283
James Kerslake of Easingwold, York with N3447


I hope you enjoyed The Latest Chapter and hope to see you out on the water soon.

Chris Day
N3526